"Margaret Thatcher detached the Conservative Party from the aristocracy."
Martin Amis

Slavery
Islamic State

"One should remember that enslaving the families of the kuffar — the infidels — and taking their women as concubines is a firmly established aspect of the Shariah, or Islamic law."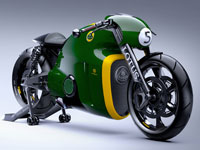 Lotus Motorcycles
Lotus C-01
German superbike:
A 200 hp V-2 engine in an
aero tech steel/titanium/
carbon-fiber frame for
€110,000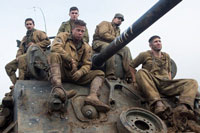 Sony
FURY

Hannover, April 1945: Two Sherman tanks rumble into the square. One has "Fury" scrawled on its gun barrel and Brad Pitt poking out of the turret. The movie includes a real Tiger tank from Bovington Tank Museum. One detail is wrong. In WW2 the average age of a combat soldier was 26 and the cutoff age for the US draft was 38. Pitt is 50.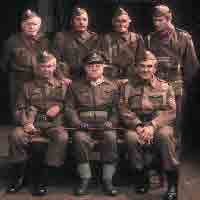 BBC
Dad's Army

In the British folk memory,
1940 was the defining moment when the country stood alone to fight Nazi Germany. Britain's wartime experience was immortalized in the TV show
Dad's Army, with its song
Who do you think you're
kidding, Mr Hitler?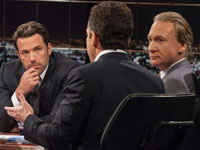 HBO
Real Time
(10:05)

The Zone of Interest
is the best novel Amis has written since The Information. His fixation on the most violent and debased aspects of humanity find a commensurate subject in the darkest abominations of the last century. There are few contemporary novelists who can render violence and stupidity with such forceful style and intelligence.
Mark O'Connell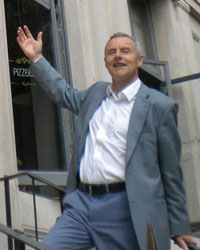 AR
Me in Poole High Street
September 2014
"The question concerning the
role of world Jewry is not a racial but a metaphysical question."
Martin Heidegger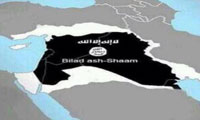 IS
Sunni politics
2014 October 15
Pakistan
Mosharraf Zaidi

Malala Yousafzai won the Nobel Peace Prize but Pakistani schools are in a desperate state of rot.

Pakistan has over 50 million school-age children. Its constitution guarantees all of them a free and compulsory education. But almost half of them, mostly girls, are not attending school. Even at school, only half the pupils reach the competence levels of kids years several years younger in other countries. Over half of the primary schools have no working electricity, over a third have no drinking water on site, and 2 in 5 don't even have working toilets.

Contracts for schools and teachers afford politicians the opportunity to distribute patronage.
Religion
Gary Gutting

In my survey of philosophers, almost 3 in 4 said they accepted or inclined to atheism, while fewer than 1 in 6 accepted or inclined to theism. Atheists have a strong case against God as a scientific hypothesis. Believers can say any concepts of God fall short of the divine reality.

Christianity has apparent contradictions in its doctrines. An appeal to mystery is inevitable. The fundamental revelation is the moral ideal expressed in the New Testament Christ. Engagement with the practices inspired by that ideal is the only requirement for being a Catholic.

Islam was once connected with traditions of philosophical reflection that tempered excesses of blind faith. Such traditions are still effective in many parts of the Muslim world, but in some places they have failed and a fanatical mutation has gone out of control.
2014 October 14
National Health
Polly Toynbee

Pay is also a token of respect. To deny a below-inflation 1% to nurses was a calculated provocation. With its Health and Social Care Act, the government wasted billions in a chaotic reorganization of the NHS that cabinet ministers now call a disaster. The current fragmentation of the NHS has set trusts to compete against each other for income, staff, and patients in a sham health market. If ordinary laws of the market worked, nurses should be in a powerful bargaining position. But some in the NHS get large bonuses, such the John Radcliffe hospital CEO who gets a £30,000 bonus on top of his £215,000 pay, defended by his local MP: "There should be performance related pay for key people." This is an affront to other NHS key people and a microcosm of warped rewards across the UK.
Ebola
The Times

UK health secretary Jeremy Hunt warns that the ebola outbreak is becoming as serious as the AIDS epidemic.

AR Respect nurses and pay them.
2014 October 13
UK
Stefano Hatfield

The racism behind the UKIP message is repugnant. Facts: 2.2 million Britons live in continental Europe, while 2.3 million other EU citizens live here. Some 77% of our EU migrants work, while 72% of Britons do. EU migrants form 2.1% of UK welfare recipients. But last year there was a 30% rise in net migration to Britain to 212,000, fueled largely by migrants from southern Europe, while 320,000 Brits emigrated, the fewest since 2008. Migrants form 8% of the UK population (10% including dependent children). Black and Asian ethnic groups form 11% of the population. UKIP is a protest vote.
2014 October 12
UKIP
The Times

A new poll suggests that 1 in 4 voters would vote for UKIP at the next general election, to give both Labour and Conservatives 31% and Liberal Democrats 8%. This could give Labour 253 MPs, Conservatives 187, UKIP 128, Lib Dems 11, and other parties 71.
Recession
Paul Krugman

Martin Wolf says academics and policymakers displayed ignorance and arrogance in the run-up to the financial crisis. When crisis struck, major central banks rescued troubled banks and sustained money supplies, but we got a depression all the same.

Hyman Minsky argued that periodic financial crises are a more or less unavoidable feature of capitalism. Borrowers and lenders become complacent and underestimate the risks of high levels of debt. Leverage rises year after year. Then something goes wrong. This is the Minsky moment.

The economics establishment identified financial crisis with bank runs by depositors. Yet by 2008 depository institutions were no longer the dominant form of banking. Institutions like money market funds and investment banks were both unsecured and unregulated. Policymakers convinced themselves that such innovation was making the system more stable and efficient. They were wrong.

It is tempting to turn it all into a morality play. Two reasons to be skeptical:

1 If the secular stagnationists are right, advanced economies suffer from persistently inadequate demand. Depression is their normal state, except when spending is supported by bubbles. So bubbles are good because they prop up demand. We need policies to support demand on a continuing basis.

2 Even if you believe that financial excess set the stage for the slump, there was still no good reason why the slump had to be so terrible. Given low interest rates, the stimulus could have been bigger and gone on longer. An obsession with deficits and fiscal austerity deepened and extended the slump.

Debt, shadow banking, international imbalances, and so on helped set the stage for disaster, but intellectual shifts arguably played an equally large part in the crisis. Conventional economic analysis fell short, but policymakers made the situation worse.
Revolution
Russell Brand

Politics is something I've acquired through growing up in a single-parent family, being on the dole, then being a drug addict. There's a lot of anarcho-collectivism in the fellowship around abstinence-based recovery. I want to address the alienation and sense of despair that you see all around us. It don't matter to me how much people have a go at me. I'm ready to die for this.

Karl Marx designed one of the most powerful and influential economic and social philosophies of recent history. Regardless of what I do, madness is coming. And I'll be happy to participate in whatever way I can. But I don't think it will be by joining an already antiquated and defunct system. I'm not asking for an invitation to the party. I'm saying the party's over.

AR I won't be voting for him.
Rape
Ian Urbina

Recent US actions aimed at countering sexual assault reveal little uniformity on how to define rape.

Until 2012, the FBI still considered rape a crime committed solely against women. For statutory rape, some states set rules for a minimum age difference between partners. In some states, active resistance is required for rape, and merely saying no is insufficient. Only 40 years ago, no state allowed husbands to be prosecuted for raping their wives, and 60 years ago, in some states, sex between a black man and a white woman was considered rape.

Some see an urgent need for national standards regarding rape and sexual assault.
2014 October 11
Peace
The New York Times

The 2014 Nobel Peace Prize goes to Malala Yousafzai, 17, and the Indian child rights campaigner Kailash Satyarthi, 60. The prize committee chairman said it was important for "a Hindu and a Muslim, an Indian and a Pakistani, to join in a common struggle for education and against extremism" as they share the $1.1 million prize.
UKIP
The Times

Prime Minister David Cameron says the double by-election results puts Labour leader Ed Miliband closer to power. Some Conservatives say Cameron should take advantage of the UKIP challenge to Labour in the north.

MP Jacob Rees-Mogg: "We should think about what that means in terms of the UKIP-Conservative relationship, because the Conservative family could win a majority on that basis. Otherwise, the only thing we manage is mutually assured destruction."

MP Peter Bone: "If we can get that vote as one we would have a massive centre-right majority in parliament, but if we split the vote we could have Labour winning on 31-32% of the vote."
Scientists
Priyamvada Natarajan

The scientific enterprise is often seen as a large and dispassionate machine in which objective scientists seek cold facts from experiments. This leaves out the excitement, awe, and wonder that motivate many scientists.

Curiosity and wonder have driven the scientific enterprise. Changes in the notion of curiosity from vice to virtue have gone hand in hand with the development of empirical methods in science. A slow and gradual honing and growing sophistication of our understanding is driven by accumulating data enabled by the invention of new instruments. As empirical evidence accumulates, theories aim at a more comprehensive explanation that subsumes earlier views.

Two other forces that condition science are serendipity and ignorance. Scientists continually uncover new facts that confront them with the extent of their ignorance. Breakthroughs in understanding are essentially unforeseeable even to a seasoned mind. Researchers can be held captive by their entrenched intuitions and refuse to accept new ideas until they are faced with overwhelming empirical evidence contradicting their views. Blunders are part of scientific progress.

A view of how science actually works might reduce the misunderstanding and distrust of science.
2014 October 10
UKIP
The Times

Strong surge for UKIP in two by-elections:

In Clacton, Tory defector Douglas Carswell secured a resounding victory with a 12,404 majority and 60% of the vote. He returns to the Commons as the first UKIP MP.

In Heywood & Middleton, UKIP destroyed a Labour majority of 5,971 to come second with 38.7% of the vote compared with 40.1% for Labour.
2014 October 9
Holocaust Novels
Adam Kirsch

The Zone of Interest, by Martin Amis, and J, by Howard Jacobson, return to the Holocaust:

Jacobson believes that the subject demands disorientation, reticence, and confusion. J takes place in a future England, somewhere around the year 2070. As Jacobson sketches in more of his fictional world, it becomes clear that it is afflicted by a continual, habitual violence. Then there are the more pointed and private omens. Jacobson is imagining an English Holocaust, set to take place sometime around the year 2020. He has written a horror story about a Holocaust that changes history and even human nature. The real horror of the real Holocaust is that it did no such thing.

Amis deliberately circumvents the conventions of Holocaust writing. Nearly the whole cast of The Zone of Interest are perpetrators. Amis has written a comedy that happens to be set in Auschwitz. The protagonists are the administrators of the camp. The horror is made to bleed through the edges of the story. Amis writes beautifully and originally about Auschwitz. The book conjures everyday life there. We see not overt savagery but carefully chosen moments of pathos and irony. The crime of Auschwitz was to assign the victims and the perpetrators their roles in an ideological apocalypse.
2014 October 8
Islam in Real Time
Sam Harris

Ben Affleck is now being lauded for having exposed my and Bill Maher's racism, bigotry, and hatred of Muslims. I say we have to be able to criticize bad ideas, and Islam is the Mother lode of bad ideas.

Affleck and others imagine that ISIS is functioning like a bug light for psychopaths by attracting disaffected young men who would do terrible things to someone, somewhere, in any case. These disturbed individuals travel to a foreign desert for the privilege of decapitating journalists and aid workers. I await an entry in the DSM-VI that describes this troubling condition.

Affleck and others are confused about Islam. Like many secular liberals, they refuse to accept the abundant evidence that vast numbers of Muslims believe dangerous things about infidels, apostasy, blasphemy, jihad, and martyrdom. And they do not realize that these doctrines are about as controversial under Islam as the resurrection of Jesus is under Christianity.

We need honest talk about the link between belief and behavior. No one is suffering the consequences of what Muslim extremists believe more than other Muslims.
Is It Is or Is It Ain't?
"President Obama keeps insisting that ISIS is not Islamic. Well, maybe they don't practice the Muslim faith in the same way he does. But if vast numbers of Muslims across the world believe — and they do — that humans deserve to die for merely holding a different idea or drawing a cartoon or writing a book or eloping with the wrong person, not only does the Muslim world have something in common with ISIS, it has too much in common with ISIS."
Bill Maher
2014 October 7
Physics Nobel for Blue LED
New Scientist

Isamu Akasaki and Hiroshi Amano at Nagoya University in Japan, and Shuji Nakamura at the University of California in Santa Barbara, share the 2014 Nobel prize for physics for developing blue light emitting diodes in the late 1980s. Since then, the blue LED has transformed the way we light our world, watch movies, and store data.

LEDs are made from multiple layers of semiconductor sandwiched together, one with an excess of electrons and the next with an excess of positively charged holes. Applying a voltage to the device drives the electrons and holes together into the filling layer, where they combine to emit light. Its color depends on the semiconductor material. Gallium nitride doped with indium has the quantum properties to emit blue light, but it was hard to make a semiconductor sandwich with a gallium nitride filling.

In 1986, Akasaki and Amano made one by adding an extra layer to the sandwich. Meanwhile, Nakamura did so by growing a gallium nitride crystal first at low temperatures and then at higher temperatures. The trio went on to turn their blue LEDs into blue lasers, used in Blu-ray players. LED units make more efficient lighting.

AR These guys published their first book on the blue LED with Springer while I was there working on the physics books.
2014 October 6
Brain Science Nobel Prize
New Scientist

The Nobel prize in physiology or medicine has been awarded to three scientists who located specialized cells in the brain responsible for helping us to navigate our world. One half of the award went to John O'Keefe at University College London and the other half to the husband and wife team May-Britt and Edvard Moser, both at the Norwegian University of Science and Technology.

O'Keefe discovered in 1971 that certain cells in the hippocampus were only active when an animal was in a particular place in a certain orientation in its environment. The same combination of cells was active when the animal visited the same location, but a different combination was active when visiting another site, suggesting that the activity of these cells helps the animal build an internal map of its environment. The Moser team later found another component of our internal navigation system within the entorhinal cortex.
Asian Cauldron
Robert D. Kaplan

By the year 2000, Asia accounted for 20% of global military expenditure. Asia's share of arms imports increased to over 40% of the world total. In 2011, China's defense budget rose to nearly $100 billion. China is now the world's second largest military spender.

China has over 60 submarines and will have around 75 or so in the next few years, slightly more than the United States. China is outbuilding the United States in new submarines by 4 to 1 since 2000 and by 8 to 1 since 2005.
2014 October 5
The British Constitution
Vernon Bogdanor

Constitutional issues keep pushing forth in the UK: the European Union, the role and composition of the House of Lords, and the independence referendum in Scotland.

In 1998, the Westminster Parliament created devolved bodies in Scotland, Wales, and Northern Ireland. The devolved bodies, unlike the House of Commons, were to be elected by proportional representation.

The British government now has an English problem. English Conservative MPs will not support further devolution unless something is done for England. They propose English votes for English laws.

The British are not wholly foolish in regarding constitutional issues as less important than social and economic ones. Britain is governed not by logic but by Parliament.
Shaping Virtual Lives
Online Identities, Representations, and Conducts
Eds. Violetta Krawczyk-Wasilewska, Theo Meder, and Andy Ross

"This is an interesting and necessary book, which should stand side by side with Dutch cultural historian Johan Huizinga's book Homo Ludens."
— Eda Kalmre

From special issue "Homo Ludens: Describing Virtual Lives" edited by Mare Kalda,
Folklore: Electronic Journal of Folklore, 57/2014, 189-190
The Frost Report
John Cleese

It was to become a great joke among writers that in the final credits of the TV show every week the words "Written by" were closely followed by the words "David Frost" in large letters and then, after a slight gap, by the word "and" in smaller letters and finally, in even smaller letters, the names of a couple of dozen writers. David was endearingly shameless in matters such as these.
2014 October 4
Reading
Will Self

No forensic or analytic account of reading can do justice to the strange interplay between levels of reality we apprehend when we read deeply. Reading on screen is fundamentally different. Digital text will bring with it new forms of reading, learning, memory, and even consciousness.

The book is in retreat. The relationship between words and revenue is debatable. A certain kind of expertise was understood to have a value to its consumers that was both constant and capable of being monetized at a fixed rate. The web snapped this inelasticity. Follow the money.
Dawkins
John Gray

Richard Dawkins is an evangelist. He says memes leap from brain to brain, via a process that can be called imitation, and he sees this process at work throughout human culture. But a meme-based Darwinian account of religion is at odds with the assault on religion as a type of intellectual error. If Darwinian evolution applies to religion, then religion must have some evolutionary value.

Science may show that humans are not and can never be rational animals. Perhaps religion cannot be eradicated from the human mind. Dawkins is an ideologue of scientism, the positivistic creed according to which science is the only source of knowledge and the key to human liberation. Religion is irrational, and we will all be better off without it. This is his argument for atheism.
2014 October 3
Procrastination
Anna Della Subin

The American Psychological Association estimates that 1 in 5 of American men and women are chronic procrastinators. In 1952, the American Psychiatric Association declared procrastination a symptom of mental illness. Why not view procrastination as an act of resistance against the strictures of time and productivity?
2014 October 2
Islam
Sajjad Rizvi

The Quran presents Abraham as an adherent of Islam. A primordial faith connects humanity to one God and leads in turn to Judaism, Christianity, and then historical Islam as proclaimed by Muhammad. Jewish and Christian communities were considered often to be imperfect monotheists.

Shia Islam is a religious tradition in which the presence of the divine through the Imam provides the path to salvation. The Imam is the Law and the revelation. Believers follow the path to salvation through their devotion and obedience to the Imam. Sunni traditions tend to be more pragmatic about politics.
Conscious Computers
Christof Koch

Integrated Information Theory, developed by Giulio Tononi, says that consciousness is a property of complex systems that have a particular way of interacting with the world. But a digital simulation would not be conscious.

Consciousness is a fundamental property of the universe. But it takes a particular type of hardware to instantiate it. If you were to build a computer in the appropriate way, like a neuromorphic computer, it could be conscious.

People are going to abuse computer intelligence, blindly maximize for some goal. It will lead to more and more concentration of power among fewer and fewer people. I think there is really an existential danger to the species.
Robot Law
The Times

The RoboLaw consortium told the European parliament that robots could act independently if they had the legal status of a corporation. Driverless cars could reduce accidents by 97%, but under present legislation the manufacturer could be liable for accidents. New insurance schemes could address this.
2014 October 1
Robots
MIT Technology Review

Robots are safe and smart enough to work alongside people on BMW production lines. These robots are increasing productivity and flexibility but they are relatively slow and lightweight, which makes them safer to work around.

Robots on production lines promise to transform the division of labor between people and machines. Traditional robots work well but they are unsafe with anyone nearby. The new robots can automate more the production process.

The next generation of robots to work with humans will be faster and more powerful. The sensors and computer power needed to react quickly and intelligently to safety risks are now cheap. Mixed teams can be more productive.