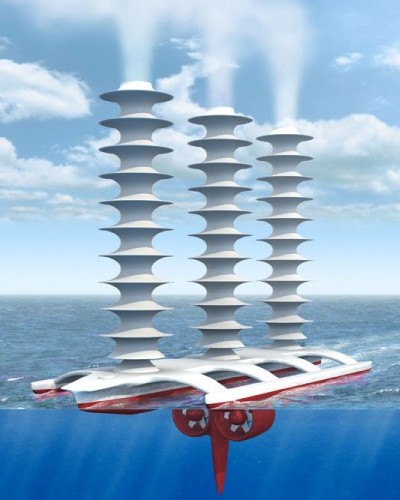 Stephen Salter and John Latham cloud seeding spray ship
Geo-engineering
By Graeme Wood
The Atlantic, July/August 2009
Edited by Andy Ross
On a future Earth ravaged by catastrophic climate change, we might pull fire hoses up into the sky, attached to zeppelins hovering 20 km high. Factories on the ground would pump sulfur dioxide up through those hoses continuously, day and night. The hoses would puff a sulfurous pall into the sky. At sunset on some parts of the planet, the aerosol would glow a dramatic red. During the day, it would shield the planet from the sunís full force.

Within a few years we could cool the Earth to average temperatures not seen for over 200 years. For less than $100 billion, we could reverse anthropogenic climate change entirely. To stop global warming directly, by cutting carbon emissions, would cost maybe $1 trillion yearly. President Obamaís science adviser, John Holdren, said in April that he thought the administration would consider the sulfur solution, "if we get desperate enough."

Big geo-engineering projects are among the boldest ideas being considered today to combat climate change. Some scientists see geo-engineering as a last-ditch option to prevent us from cooking the planet to death. Others fear the consequences.

Stephen Salter, a Scottish engineer, has an idea for a fleet of hundreds of ships that suck up seawater and spray it high enough for the wind to carry it into the clouds. The spray would make the clouds whiter and fluffier, and hence better at bouncing sunlight back into space. Salter estimates the cost for the enough ships to turn back the climate clock two centuries to be $600 million to start plus $100 million a year from then on.

Roger Angel, a professor at the University of Arizona, would build a giant sunshade in space. He would use a battery of electromagnetic guns, each more than a mile long and built on high ground, to shoot Frisbee-size ceramic disks. Each gun would launch 10 million disks per hour for 10 years. The guns would aim at the gravitational midpoint between the Earth and the sun, so that the disks would hang in space, scattering sunlight and shading the Earth. The scheme would cost several trillion dollars.

Thomas Schelling, who won the 2005 Nobel Prize in economics, points out how difficult it is to get vast international agreements such as the Kyoto Protocol to stick. He says a geo-engineering strategy like the sulfur aerosol changes everything. Instead of a situation where any one country can foil efforts to curb global warming, any one country can curb global warming all on its own. Pumping sulfur into the atmosphere is a lot easier than trying to orchestrate the actions of 200 countries, each of whom has strong incentives to cheat.

But there are big drawbacks to the sulfur strategy. Opponents say it might produce acid rain and decimate plant and fish life. It would likely trigger radical shifts in the climate that would hit the globe unevenly. And we'd risk calamity as son as we stopped pumping: the aerosols would rain down and the accumulated carbon dioxide would make temperatures soar. We would suffer the full force of postponed warming in just a few catastrophic years.

Since 1977, Freeman Dyson has explored how plants affect the planet's carbon-dioxide concentrations. Every summer, plants absorb about a tenth of the carbon dioxide in the atmosphere. In the fall, when they stop growing or shed their leaves, they release most of it back into the air. Dyson proposed creating forests of trees engineered to suck carbon ravenously from the air, and to fix in thick roots that would decay into topsoil, trapping the carbon. He estimates that we could offset our carbon emissions with just a few mm of additional topsoil worldwide per year.

David Keith, at the University of Calgary, proposes to capture carbon from the air by building structures resembling industrial cooling towers. These would funnel air through grids coated with a chemical solution that binds to carbon-dioxide molecules. The grids would be scrubbed chemically to separate the carbon dioxide, which would then be buried by pumping it into the caverns left by oil drilling.

We might also store carbon dioxide in the oceans. On the ocean surface, clouds of blooming plankton ingest amounts of carbon dioxide comparable to those taken in by trees. Climos, a company based in San Francisco, is trying to cultivate ever-bigger plankton blooms that would suck in lots of carbon. When the plankton died, the carbon would end up on the sea floor. Plankton need plenty of iron to grow. If you spread powdered iron over the surface of the ocean, you soon get a massive bloom of plankton. But seeding the ocean with iron and creating vast undersea forests could have a terrible price. When the dead algae decay, they emit methane.

Even staunch environmentalists and eminent scientists are discussing geo-engineering. But with growing acceptance comes another danger. If you promise that in a future emergency you can chill the Earth in a matter of months, cutting emissions today will seem far less urgent.

Geo-engineering is so cheap that a single rogue nation could afford to change the climate. Industrialized governments may need to regulate and monopolize the technology, rather like the International Atomic Energy Agency now regulates nuclear technology.

We should keep investigating these geo-engineering solutions, but be quite clear that most of them are dreadful.

AR I like these ideas — bold and fearless! But not on my planet, thank you. Except maybe the fluffy white clouds one, which sounds rather nice.