You Still Can't Write About M
.
By Asra Q. Nomani
The Wall Street Journal, August 6, 2008
Edited by Andy Ross
Starting in 2002, journalist Sherry Jones toiled weekends on a racy historical novel about Aisha, the young wife of the prophet Muhammad. When Random House bought her novel last year in a $100,000, two-book deal, she was ecstatic.

In May, Random House abruptly called off publication of the book. The series of events that torpedoed this novel are a window into how quickly fear stunts intelligent discourse about the Muslim world.

Thomas Perry, deputy publisher at Random House Publishing Group, said that after sending out advance copies of the novel, the company received "from credible and unrelated sources, cautionary advice not only that the publication of this book might be offensive to some in the Muslim community, but also that it could incite acts of violence by a small, radical segment."

This saga upsets me as a Muslim. "I'm devastated," Ms. Jones told me after the book got spiked, adding, "I wanted to honor Aisha and all the wives of Muhammad by giving voice to them, remarkable women whose crucial roles in the shaping of Islam have so often been ignored — silenced — by historians."

This time, the instigator of the trouble wasn't a radical Muslim cleric, but an American academic. In April, looking for endorsements, Random House sent galleys to writers and scholars, including Denise Spellberg, an associate professor of Islamic history at the University of Texas in Austin.

In an interview, Ms. Spellberg told me the novel is a "very ugly, stupid piece of work." Says Ms. Spellberg: "I don't have a problem with historical fiction. I do have a problem with the deliberate misinterpretation of history. You can't play with a sacred history and turn it into soft core pornography."

In New York City, Jane Garrett, an editor at Random House's Knopf imprint, dispatched an email on May 1 to Knopf executives, telling them she got a phone call the evening before from Ms. Spellberg.

"She thinks there is a very real possibility of major danger for the building and staff and widespread violence," Ms. Garrett wrote. "Denise says it is 'a declaration of war ... explosive stuff ... a national security issue.' Thinks ... the book should be withdrawn ASAP."

On a May 21 conference call, Random House executive Elizabeth McGuire told the author and her agent that the publishing house had decided to indefinitely postpone publication of the novel for "fear of a possible terrorist threat from extremist Muslims" and concern for "the safety and security of the Random House building and employees."

All this saddens me. Literature moves civilizations forward, and Islam is no exception.

The Jewel of Medina
By Johann Hari
The Independent, August 14, 2008
Edited by Andy Ross
The Jewel of Medina was written by a journalist called Sherry Jones. It recounts the life of Aisha, a girl who was married off at the age of six to a 50-year-old man called Mohamed ibn Abdallah. When she was nine, she was taken to live with her husband, now 53. He had sex with her.

The Jewel of Medina was bought by Random House and primed to be a best-seller — before University of Texas Professor Denise Spellberg saw a copy of the galleys and decided to "warn Muslims" of the pending publication of a novel that, in Spellberg's opinion, "made fun of Muslims and their history." Random House immediately canceled publication.

In Europe, we are finally abolishing the lingering blasphemy laws that hinder criticism of Christianity. But they are being succeeded by a new blasphemy law preventing criticism of Islam, enforced by jihadis.

Reinterpretation and ridicule crow-barred Christianity open. Ask enough tough questions and faith is inevitably pushed back into the misty realm of metaphor. But doubtful Muslims are being prevented from following this path. The greatest censorship is internal.

We need to acknowledge the double standard. Insulating a religion from criticism keeps it stunted at its most infantile and fundamentalist stage. The smart, questioning and instinctively moral Muslims learn to be silent.

Let us look at Mohamed's marriage to Aisha. It is true those were different times, and it may have been normal for grown men to have sex with prepubescent girls. The sources are not clear on this point.

You cannot say that Mohamed's decision to marry a young girl has to be judged by the standards of his time, and then demand that we follow his moral standards to the letter. Either we should follow his example literally, or we should critically evaluate it and choose for ourselves.

Muslims are secure enough to deal with some tough questions. It is condescending to treat Muslims like excitable children who cannot cope with the probing, mocking treatment we hand out to Christianity, Judaism and Buddhism.

Salman Rushdie Condemns Cancelation
Edited by Andy Ross
Salman Rushdie strongly criticized his publisher for canceling another writer's historical novel about the prophet Muhammad and his child bride over concerns about angering Muslims.

Rushdie, whose The Satanic Verses led to a death decree in 1989 from Iran's Ayatollah Ruhollah Khomeini and forced the author to live for years under police protection, said the Random House Publishing Group had allowed itself to be intimidated.

"I am very disappointed to hear that my publishers, Random House, have canceled another author's novel, apparently because of their concerns about possible Islamic reprisals," Rushdie said. "This is censorship by fear, and it sets a very bad precedent indeed."

Random House spokeswoman Carol Schneider said, "We certainly respect Mr. Rushdie's opinion, but we stand by our decision."

AR No surprises in this story.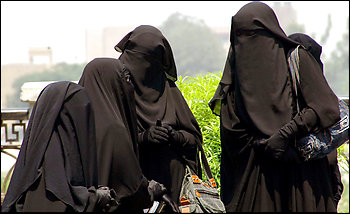 Photo: Mohamed Al-sehety / AP
Some Egyptian women say veils fuel harassment
By Ellen Knickmeyer
Washington Post, August 17, 2008
Edited by Andy Ross
In Egypt the numbers of women wearing the veil are rising, and so are incidents of groping and catcalls in the streets.

"You can't stop them, but you can protect yourself," warns an ad likening men to flies and women to sweets. Bloggers in Egypt have taken to calling such messages the "veil your lollipop" campaign.

Some Egyptian women say that their veils don't protect against harassment, as the lollipop ads argue, but fuel it. A survey released this summer supports the view.

"These guys are animals. If they saw a female dog, they would harass it," Hind Sayed, a 20-year-old sidewalk vendor in Cairo, said, staring coldly at a knot of male vendors who stood grinning a few feet from her.

Foreign women identified Egyptian policemen and other security officials as the most frequent harassers.

Two-thirds of the Egyptian men surveyed admitted to harassing women, in actions ranging from staring openly at their bodies, shouting explicit comments, touching the women or exposing themselves.

"The woman herself is the one who makes men harass her," said Fawzi Tahbet, a 50-year-old man selling kitchenware on the sidewalk. "If she's walking, swinging as she goes, of course it will happen."

AR No surprises in this story either, sadly.